UC San Diego welcomes you. This is your university.
For years we've been listening to our Latinx and Chicanx parents, families and future students about what programs and resources would be most helpful on the pathway to college. The result is Mi Universidad, an outreach program that provides education in both English and Spanish, with culture and identity integrated as a key foundation.
We invite prospective Latinx and Chicanx students and their families to explore UC San Diego's vibrant academic community. Our programs also welcome other members of the community who are seeking new knowledge and skills. Wherever you are in the world–whether you live in San Diego, Sao Paulo or San Luis Potosí–you are encouraged to join our in-person and virtual events, workshops, certificate programs, continuing education classes and more.
Serving California's fastest growing population
Located in a dynamic transborder region, UC San Diego is transforming to meet the needs of the university's growing community of Latinx and Chicanx student scholars–who make up nearly one in four students at the university.
As an emerging Hispanic-Serving Institution, many exciting changes have been happening to cultivate a "home away from home," such as:
Reaching a global audience
Mi Universidad also increases awareness of UC San Diego's excellent programs outside of our region to people across California, the United States and throughout Mexico and Latin America who may not have considered our campus before.
For example, through a unique partnership with the Division of Extended Studies and UCTV, we provide an inside look at the pathway to college through firsthand perspectives from Latinx and Chicanx alumni, students, staff and faculty. These insights help convey the information prospective students and their families need to apply to UC San Diego. Topics range from selecting a college to staying connected to your culture and navigating university life.
Further outreach happens through continuing education and specialized programs offered by the Division of Extended Studies for students in the U.S. and Latin America. Conducted in both English and Spanish, these programs are designed to expand opportunities for teachers and professionals who want to build their skills as well as those who would like to strengthen their language proficiency.
Strengthening student success
Over the past decade we have invested in programs to help prospective students become more competitive applicants as well as help current students feel like they belong.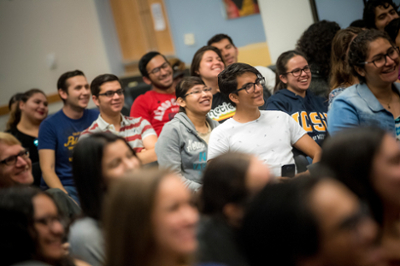 For example, high school students can participate in pre-college programs to develop their research and academic skills as well as learn about how UC San Diego supports the success of students. Programs like Academic Connections, BioChem Core, COSMOS, ENLACE, Sally Ride Science and more offer insight into college life while sparking passion for learning and research.
For newly enrolled students, their transition to UC San Diego is supported by summer bridge programs that provide both social and academic transition, including Summer Bridge, Summer Engineering Institute, and PATH Summer Program. These programs allow incoming students to live on campus and adjust to the rigors of college life in a supportive environment. Students can also earn units of college credit, begin to make social connections and develop their academic skills.
Once they have begun their studies at UC San Diego, students can explore their identity, meet other students who share their identity—as well as learn from others who have different backgrounds—conduct research alongside a faculty member and more:
These investments represent UC San Diego's full commitment to support and develop students from their high school transition into the university and through their graduation.

Community and campus partnerships
The Mi Universidad program is made possible through the collective efforts of the Office for Equity, Diversity and Inclusion (EDI), Office for Student Affairs, Enrollment Management, Division of Extended Studies, the Hispanic Serving-Institution Latinx/Chicanx Academic Excellence Initiative Work Group, UCTV, CREATE, EAOP, TRIO, Univision, Raza Resource Centro, Undocumented Student Services, University Communications, Chicano/Latino Studies, Latin American Studies and community partners including the Parent Institute for Quality Education, Sweetwater Unified School District and Imperial School District.